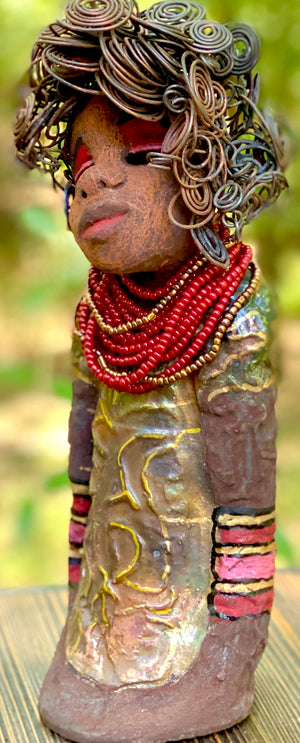 Ruby
Meet Ruby!
Chances are you know someone like Ruby and her sister Dorothy.
They are single, self employed and looking for a good man. Ruby
 stands 13" x 5" x 5"  and weighs 4.3 lbs. 
Ruby wears a lovely textured  antique metallic copper dress. 
She has a massive ruby red beaded necklace around her neck.
Ruby has a lovely honey brown complexion.
It took 3 hours to style Ruby's  "Herdew" hairdo which is made of 16 gauge wire.
See if Ruby favors her sister Dororthy.( sold separately)
They both have a lot of charm.
Consider giving one of or these girls a new home.
Free Shipping!
Got Questions????
Instant Message

or

Chat

with me.
Check out our Shipping and Return policy