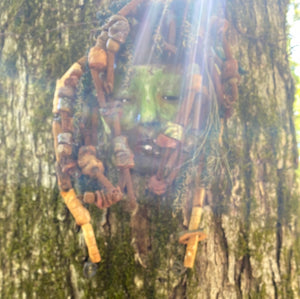 Travis
Meet Travis!
I started making art soon after seeing authentic African artwork at the Smithsonian Museum of African Art. I was in total awe. Travis was inspired by my visit there. 
Travis has a two tone smoky gray and  olive green complexion with dark metallic lips!
He is 5"x 7" and weighs 12 ozs.
Travis has over 40 handmade raku fired beads.
He has over 20 feet of coiled 16 gauge wire hair.
Travis is truly one of a kind and a must have!