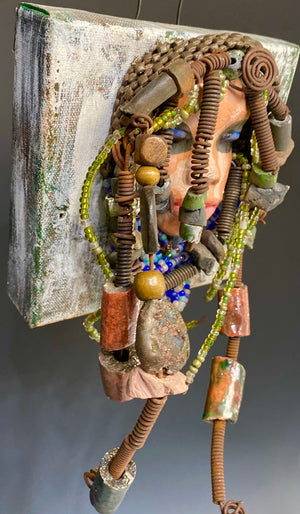 Quisha
I started making art soon after seeing authentic African artwork at the Smithsonian Museum of African Art. I was in total awe. Quisha was inspired by my visit there. 
Quisha is mounted on a 6"x 6" painted canvas. I spent about 1 hours or more just  fixing Quisha's hair and attaching her beads!
She has over 20 feet of 16 gauge wire for hair and over 20 raku beads.
Quisha  has a stripped beige face with black and blue colored eyes.
She has an abundance of small multicolored acrylic beads.
She is ready to be hung!
 Free Shipping!
This happy young lady purchased a mask similar to

 Quisha

 at the  spring TN Crafts Festival in Nashville TN.