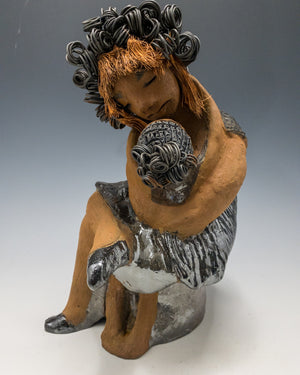 Mama
"If I could give my daughter three things, it would be the confidence to always know her self worth, the strength to chase her dreams, and the ability to know how truly, deeply loved she is."
 

Meet Mama!
You will fall in love with Mama.
Yes there is no better love than a Mother's Love!  
Mama is among the first that I added small stands of copper hair to accentuate the "herdew" hairstyle!
Mama

 is approx. 12" x 7" x 7" and weighs approx. 4.2 pounds.

Her long loving arms holds and comforts her precious daughter..

Mama has a lovely honey rust complexion.
Her dress is textured and glows with a metallic black glaze.
Her hair is made of many fine copper strands and curly 16 gauge black wire.
The daughter also has a honey brown complexion and  stands with a black metallic dress
Her hair has etched braid and rises up a 16 gauge wire  bun.
Check out our Shipping
and Return policy
    Free Shipping!
Got Questions????
Instant Message

or

Chat

with me.