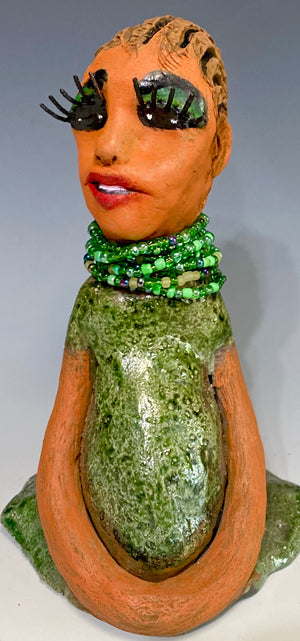 Gloria
In my mind a clay sculpture should be something pleasant, cheerful and thought provoking. There are many unpleasant things in life. I don't want to create more of them. - Lester Jones
"Honestly, I can not explain where this desire to make Gloria comes from. When I created my first raku fired sculpture , I was amazed at how well my homemade metallic copper green glaze worked with the  body.
It was a good match with the honey brown complexion and the colorful eye shadows I am beginning to use with my new sculptures.  
Gloria measures 9" x 6" x 6" and has a weight of 1.11 lbs.
Her 16 gauge wire eyelashes are long, and her complexion is cocoa brown.
Gloria wears a dark brown metallic dress and stands with her arms at her side.
Add joy to your home with Gloria!
 Free Shipping!
Got Questions????
Instant Message or Chat with me.
Check out our Shipping and Return policy