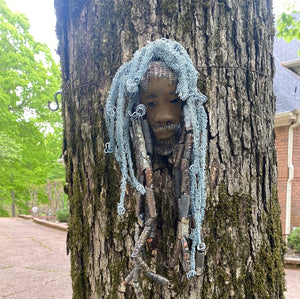 Drake
Meet Drake!
You Like Wise men; You gotta Love Drake!
I started making art soon after seeing authentic African artwork at the Smithsonian Museum of African Art. I was in total awe. Drake was inspired by my visit there. 
Drake is a wise and distinguished  bearded gentleman who has a smoky dark brown complexion.
He is approximately 5" x 14" and weighs 1.5 lbs.
Drake has an aged hairstyle of more than 25 handmade textured clay dreadlocks along with twist of coiled 16 and 24 gauge wire.
                       Instant Message

or

Chat

with me.
Move Quick on Cain!