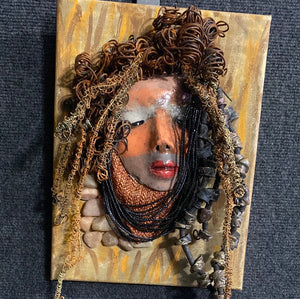 Deja
Introducing Deja!

Inspired by my visit to the Smithsonian Museum of African Art, I started making masks shortly afterwards to bring some of its authentic artwork home. Deja is sure to bring the beauty of the African Art to your own living space.

This 9"x 12" canvas-mounted sculpture is carefully crafted with 40 feet of 16 gauge wire and over 50 raku beads. Deja showcases a two-tone yellow-orange crackle face with rust-red lips. Ready to be hung!

And don't forget: we offer free shipping! Check out our Shipping and Return policy.