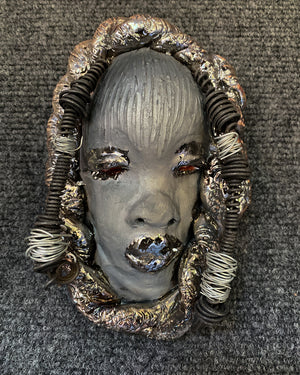 Daya
Learning to sculpt is really a matter of learning to see - to see correctly - and that means a good deal more than merely looking with the eye.- Lester Jones
Meet Daya!



I started making art mask soon after seeing authentic African artwork at the Smithsonian Museum of African Art. I was in total awe.  Daya was inspired by my visit there. 
Daya is  4" x 7" and weighs 12 ozs.
Daya's face is a lovely smoky black.

She has a textured metallic braid completely around her head.

Daya also has off white dread locks.

She also has over 30 feet of coiled black and silver wire as hanging braids.
Move Quick on Diya!
Shipping and Returns