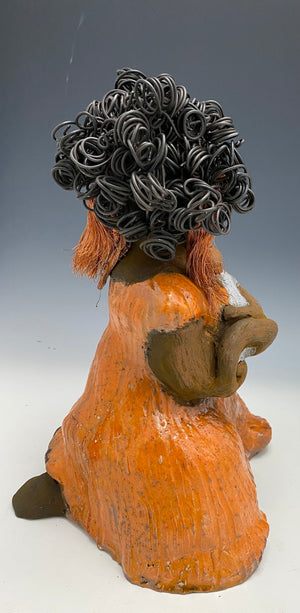 Cora
The great artists of the past were aware that human life is full of chaos and suffering. But they had a remedy for this. And the name of that remedy was 'beauty'. The beautiful work of art brings consolation in sorrow and affirmation in joy. It shows human life to be worthwhile.
― Roger Scruton
Meet Cora and CeCe!
You will fall in love with Cora! Yes there is no better love than a Mother's Love! CeCe is Cora's special needs daughter. Olivia in the video above is Cora's sister.
Cora is among the first that I added small stands of copper hair to accentuate her "herdew" hairstyle! Cora is approx. 12" x 9" x 7" and weighs approx. 4.65 pounds.
Her long loving arms holds and comforts CeCe..
Cora has a lovely honey rust colored complexion.
She wears light orange eye shadow.
Cora 's dress is textured and glows with a red orange raku glazes.
Her hair is made of many fine copper strands and curly 16 gauge black wire.
CeCe also has a honey brown complexion and is wrapped  and comforted in a in a soft off white blanket.
Check out our Shipping
and Return policy
    Free Shipping!
Got Questions????
Instant Message

or

Chat

with me.