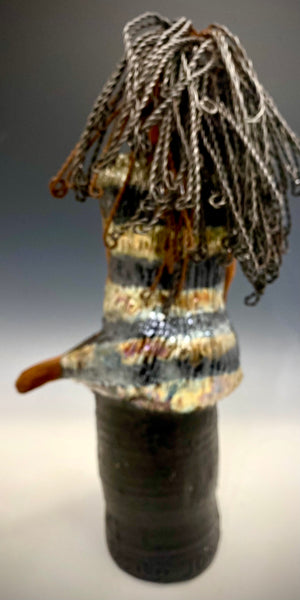 Carla
"Collecting art brings light and joy to our daily life, regardless of circumstances out in the world. Living with art is a quality of life consideration". TNCRAFT
HerDew's Choice
Meet Carla!
You know someone like Carla

.

 

She is a fun girl 

who 

reaps elegance and

sophistication!  With her beautiful smile, Carla  

sits 19" x 7" x 6.5" and weighs 6.12 lbs.  She ha

s a lovely brown 

complexion 

with over 200 feet of long16 gauge twisted wire hair.
It took over 4 hours just to fix her Hair!!
Carla's has a beautiful striped  metallic black and gold dress. 
Carla's brown eyes and bright smile gives her  such a friendly look!
 I know you would really enjoy having Carla!
I truly enjoyed creating her.
She sits with her legs crossed as she awaits a special place to grace your home.
Free Shipping!
Got Questions????
Instant Message

or

Chat

with me.
Check out our Shipping
and Return policy