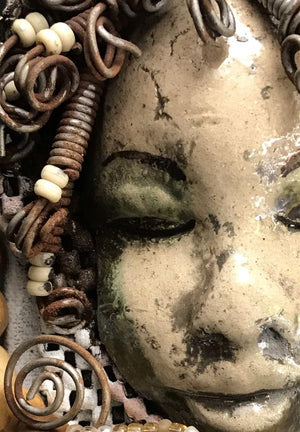 Yedda
Yedda is a beautiful, handcrafted piece of African-inspired art. Created with over 10 feet of wire and 30+ wooden and raku beads, this 1 pound canvas is a unique statement piece for any home. Emulating a museum-quality experience, Yedda was made with utmost care and attention, including one hour devoted to making and attaching the beads. Best of all, Yedda is ready to hang and weigh you with awe and admiration.I started making art soon after seeing authentic African artwork at the Smithsonian Museum of African Art. I was in total awe.  Yedda was inspired by my visit there. 

Yedda is mounted on a 4"x 6" painted canvas. I spent about  1 hours just fixing Yedda's hair 
 Yedda's handcrafted details result in a one-of-a-kind piece that will last through the years.
Each canvas is treated with a protective varnish to ensure its vibrant colors and texture remains as fresh as the day it was created.
Enjoy years of awe-inspiring beauty and admiration with Yedda.