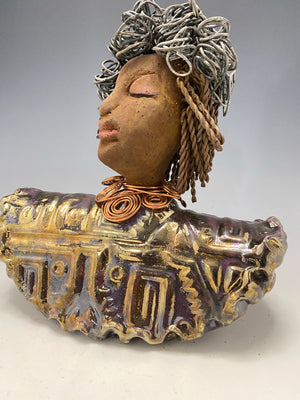 Janet
With skill and effort, art can be achieved.
― Leonardo da Vinci

Introducing Janet!
 This cheerful figure stands 8" x 7" x 4" and weighs 2.70 lbs.
Her stunningly crafted gold and copper robe trim gives Janet a unique and eye-catching look.
Her intricately woven hair of braids, twists and curls is a crown of beauty.
Honey brown skin and soft reddish brown lips add finishing touches to this amazing piece.
Janet is a must-have addition for your home.

Secure Shipping!
Explore our Shipping & Return policy.
Instant Message

or

Chat

with me.