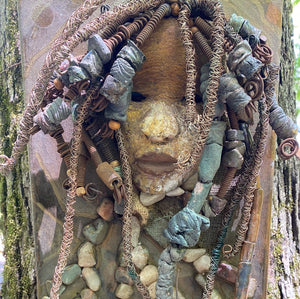 Ashley
"Imagination is the starting point of creation," George Bernard Shaw said. This thought is at the heart of Ashley--an exotic piece crafted after viewing African artwork at the Smithsonian Museum of African Art.

She's on a 9"x 12" canvas and has a weight of 1.9lbs. Her face is made of clay, with raku fired wire, beads, stones, and beige cloth. She's complemented with honey matte mustard glazes and rust brown lips. Hang Ashley with ease, then enjoy free shipping!

Questions? IM or chat us or check out our shipping and returns policy. It's no wonder that this customer from the Kentuck Art Festival in Tuscaloosa AL was pleased with her Ashley mask.